Have fun with your readers
Feb 1, 2023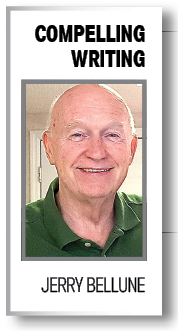 Do you have fun in writing for your readers? You should.
It's near the top of my list of fun things to do with your clothes on.
I'll bet you might not know that conservative daily, The Wall Street Journal, has women with a sense of humor covering sports.
Veronica Dagher recently wrote of a sports fan facing a Hobson's Choice.
His favorite cafe raised his go-to hamburger to $9.99, so he switched to chicken.
Then both went to the nose-bleed level of $12.99.
The cafe owner blamed inflation.
He switched to avocado toast at $5.99 with a protein bar and banana.
Kudos to him for a sensible choice.
On most college or NFL game days, replacing inflationary-priced meat with avocado toast, she wrote, would be "tantamount to inciting a riot."
Even bankers and economists can employ humor.
Wells Fargo economist Michael Swanson writes that Super Bowl party costs are up 14%.
If you love chicken wings, prepare for sticker shock–up 26%.
Pick pork. Prices are up 7%, a bargain this year.
You don't need to cover economics or sports to write like this.
It will work in feature stories and some news stories.
It will work in sermons, speeches and letters, too.
Have fun and your readers will, too.
Next: How to attract readers
Jerry Bellune is a writing coach and author of "The Art of Compelling Writing, Volume 1." If our reporters wrote better, it would make editing easier. It would make our news and feature articles sing. But we lack the time to coach them. Here's a secret. You can help them with copies of writing coach Jerry Bellune's The Art of Compelling Writing, marked down to $7.93 from $9.99 at Amazon.com